The theme of the 2023 Turner Innovation Summit is "From Artificial Intelligence to Intelligence Augmentation."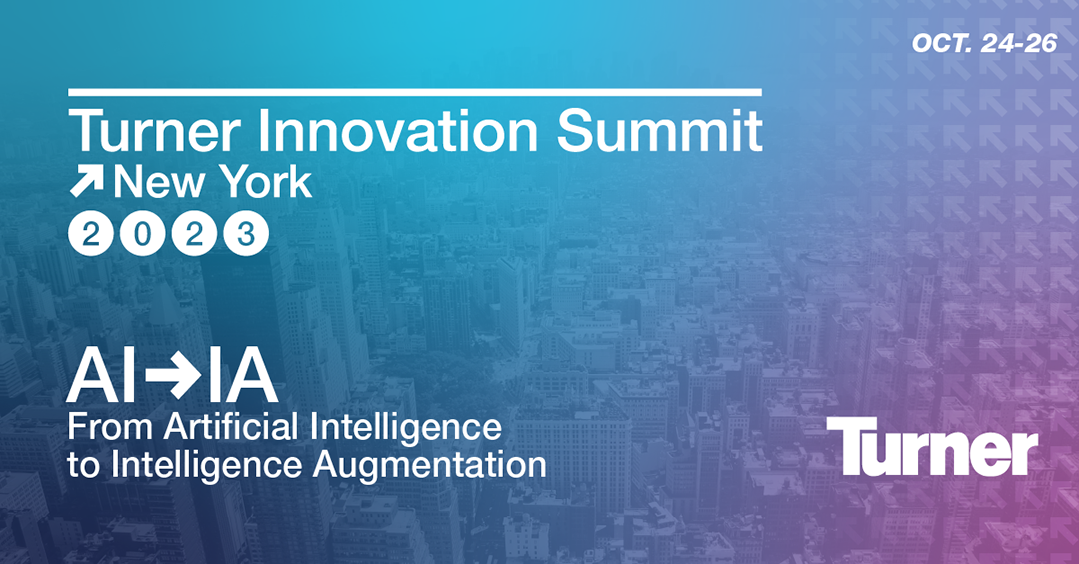 Turner Construction Company will hold its eighth Innovation Summit this October in New York City. With the theme "From Artificial Intelligence to Intelligence Augmentation," the Summit will focus on how AI technology can boost and support human intellect.
The Summit will bring together a diverse group of 250 people from across the company to share ideas, learn from one another, and hear from speakers about cutting edge practices and emerging trends. Attendees will discuss how AI can enhance human decision-making and cognitive abilities to improve our work and our lives.
The 2023 Summit will feature speakers from OpenAI, Cornell University, Writer, Uizard, Othersphere, FIU, GIANT Innovation, Bjarke-Ingels Group, Thornton-Tomasetti, Microsoft, Salesforce, Autodesk, and Procore, and keynote presentations from Zack Kass, Karan Girotra, Karen Palmer, Neil Leach, Drew Boyd, and Tom Gruber. Among topics discussed will be the proactive efforts underway that will enable Turner to harness the vast potential of AI and IA and share the long-term vision shaping Turner's AI strategy.
At the heart of Turner's human-centric innovation philosophy is the individual and as such, innovation and technology should elevate human potential. Turner is exploring how AI can be used to elevate the intellectual potential of people as it frees time from routine or tedious tasks, thus enabling individuals to spend more time creating. In this way, Turner sees that AI can be used as a partner in driving positive change for society and the planet.
"We view artificial intelligence as a helpful colleague," said Jim Barrett, Vice President and Chief Innovation Officer, Turner Construction Company. "Using AI to augment intelligence will result in far more efficient and creative work for all of Turner. This will have a profound impact on our work for the better."
The Innovation Summit provides the Company with a forum to usher in this exciting new era of human and technological co-creation. Against the dynamic backdrop of the Company's birthplace and a rapidly evolving technology landscape, the Summit will explore game-changing ideas that will help shape Turner's path forward and inspire its staff to advance the future of work.