The $1.5 billion project supports economic activity in New York City, reduces traffic congestion, and increases the efficiency of the Javits Center's operations to enable new and expanded events.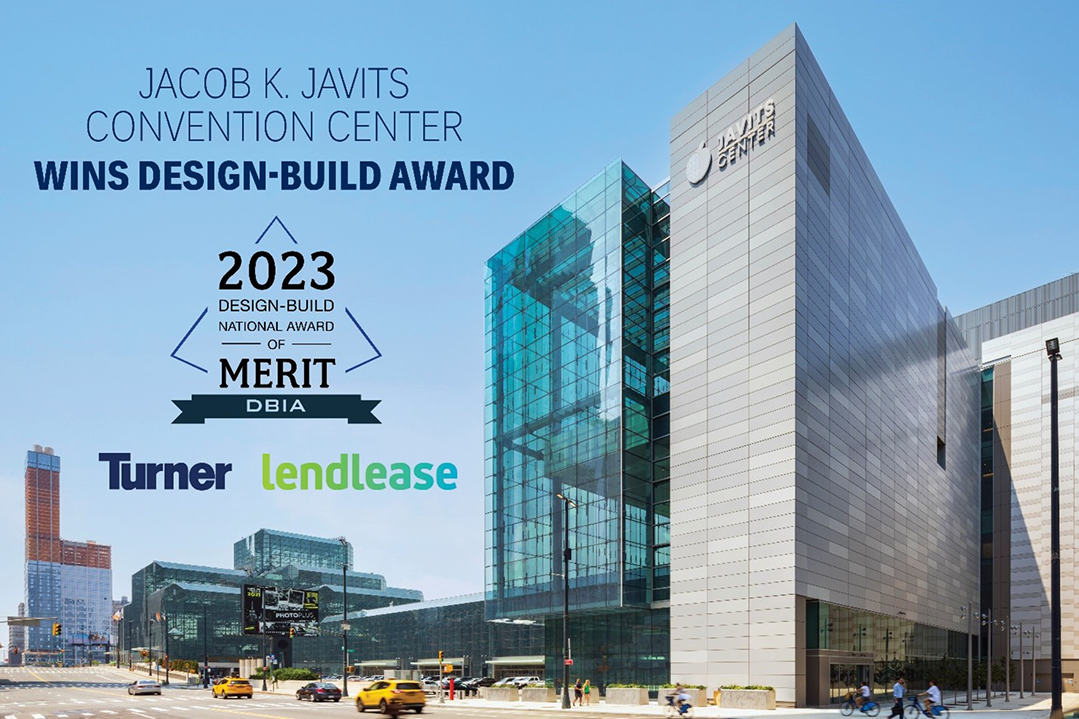 September 8, 2023. New York, NY ––The Design-Build Institute of America (DBIA) selected The Jacob Javits Convention Center Expansion as a DBIA National Design-Build Merit Award winner. This award adds to the recognition this project received including from the AIA, Engineering News-Record, the American Council of Engineering Companies, and the Building Trades Employers' Association.
Turner, in a Joint-Venture with LendLease, teamed with design-partner lead tvsdesign to provide design-build services for the 1.2 million square foot expansion of the Jacob K. Javits Convention Center. Key elements and features of the expansion included exhibit space, meeting rooms, a ballroom, a one-acre rooftop farm, and a rooftop pavilion. The façade of the expansion is lined with bird-friendly glass and a truck marshalling facility will greatly reduce traffic in the surrounding neighborhoods.
"We are grateful to have worked with Lendlease, tvsdesign, and all other design and engineering professionals on the expansion of this wonderful facility," said Rob Barbera, Senior Vice President, Turner Construction Company. "This was a true partnership in which team decision-making exceeded expectations for Safety, Client Priorities and strong Community Engagement."
A statement issued by the New York Convention Center Development Corporation said, "We appreciated the collaborative relationship that was demonstrated throughout the entire project by the LendLease Turner team. LendLease Turner continually worked in an iterative process to progressively advance the design and construction to meet the Owner's ultimate needs. LendLease Turner exhibited genuine intention to involve the facility Stakeholders into the process of design, seeking input and feedback for layout, adjacencies, and operational efficiency, while accommodating the need to keep the existing facility functioning during the ongoing everyday construction activities."
"With the continued growth of design-build, we are seeing more impressive projects that are raising the bar for success for design-build teams across the country, pushing the limits of high performance and optimizing triple-bottom line success," DBIA Executive Director/CEO Lisa Washington, CAE, said. Winners will be recognized, and additional winners announced at DBIA's Design-Build Conference& Expo Awards Ceremony Nov. 2, 2023.
A full list of project winners, including photos and descriptions of each project, can be found at DBIA's Project/Team Awards page.
About the Design-Build Institute of America - The Design-Build Institute of America is the nation's expert on design-build project delivery. Our members–including architects, engineers, owners, contractors, manufacturers and more–are shaping the future, one successful collaboration at a time by practicing Design-Build Done Right®