Turner Construction Company welcomed the arrival of the all-new Volvo Construction Equipment EC230 Electric Excavator on a project in the heart of Silicon Valley in Northern California. One of just four units in North America, this product is the largest all-electric, mid-size excavator that's currently in series production.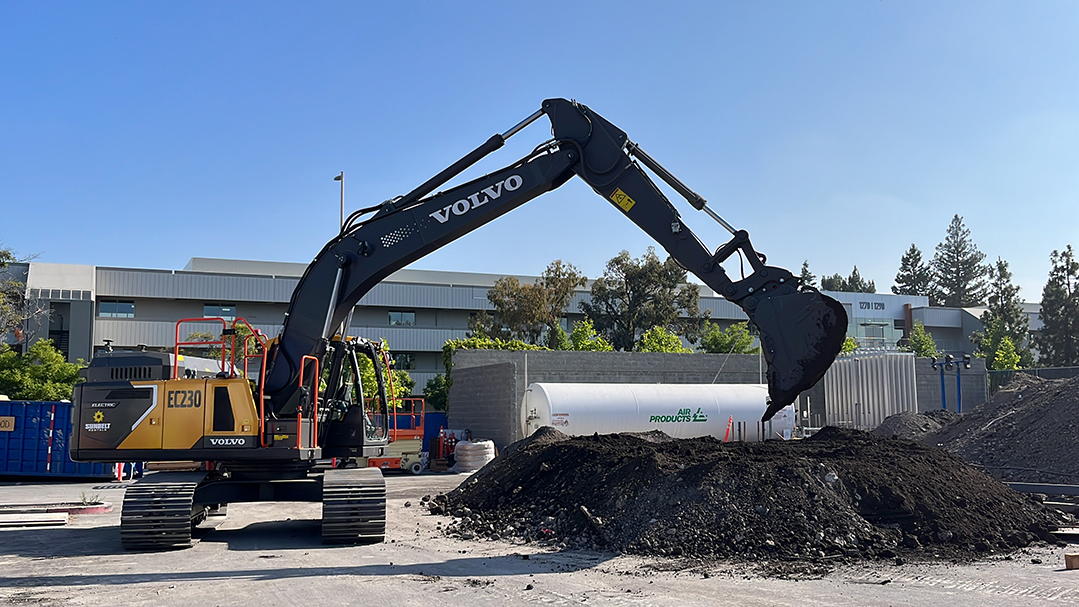 "We're really excited to participate in this pilot," said Evan Walker, Turner Project Executive. "Providing operator feedback to equipment manufacturers and helping support the low-emission equipment market is definitely in alignment with our company values."
Compared to its diesel counterparts, the Volvo EC230 delivers the same performance, including maximum digging depth, maximum digging reach, travel speed, and breakout and tearout force. With a full charge, the EC230 will run for 5 hours with no on-site carbon dioxide emission and two times noise reduction.
The excavator will play a key role on the light manufacturing reconfiguration project for Applied Materials, handling the placement of deep utilities, backfilling, building pad excavation, compaction and material movement on site.
The three-month program engages trade partner operators to put the EC230 through its paces and provide feedback on what they like about it and what could be improved.
In 2018, Turner made the commitment to reduce its jobsite carbon emissions and began piloting various low-carbon technologies through the country. Building on these commitments, Turner announced its Environmental Social and Governance strategy "Building Today to Transform Tomorrow" in June 2023, which includes a NetZero emissions commitment by 2040.
"We are dedicated to improving the environmental performance and resilience of our projects, our operations and our business," explained Emi LaFountain, Sustainability Manager, "This pilot is part of our overall effort to reduce the carbon emissions of our operations. Electrifying as much equipment as possible will yield a lower-carbon, quieter, healthier and ultimately safer jobsite."
In addition to the excavator, Sunbelt Rentals provided a mobile energy storage solution to bring power to the unit. "Portable power units are helpful because you don't want to lose power in tractoring the equipment between the point of power and point of use," said Brent Coffey, Director, Product Line Management for Sunbelt. He explained that having sufficient power is often a concern for jobsites, and that having Energy Storage Systems such as the Moxion battery that was provided can both help moderate power demand and deliver power effectively to the unit.